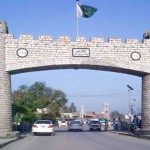 Vaccination against Corona Virus of people of sixty years and older age starrts from today (Wednesday). Special Assistant to Prime Minister on National Health Services Dr Faisal Sultan said the senior most citizens will be the first ones to receive the doses of COVID-19 vaccine.
He urged the healthcare workers and those eligible to get vaccinated to protect themselves and their loved ones against the contagion. Earlier, Minister for Planning Asad Umar said the vaccinations will be done in reverse order age wise and the oldest persons, who have registered themselves for vaccination, will be vaccinated first.
During the campaign, the registered eligible citizens will be informed about the vaccine center and the date of vaccination through a text message.
The health department started registration of those 60 years and above for the immunization programme from February 15 asking the citizens to send a text message at 1166 or enter their details at the national immunization management system (NIMS) website.