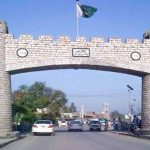 MARDAN:  The third wave of Corona Virus has affected Mardan district of Khyber Pakhtunkhwa the most and it is among the top-five affected districts in the country.
According to official data, coronavirus positivity rate touched 36.6 percent three days ago. At present, 85 percent ventilators are in use in Mardan Medical Complex (MMC), the largest public sector hospital in the district.
Pakistan's first death from coronavirus last year was also reported from Mardan. The panic and fear of the first wave in Mardan has returned now with such a high positivity rate. The MMC spokesman said 50 patients died in the hospital last week, while several other people are also dying of the disease in homes and no data is available about them. Several critical patients had to be kept in general wards due to lack of bed availability in the intensive care unit (ICU) in the MMC.
The district administration says 264 people have died of corona in Mardan and positive cases have reached 5,995; recoveries are at 3,278, and active cases are 2,453.
The National Command and Operation Centre (NCOC) has indicated to impose complete lockdown in cities with high corona ratio and Mardan is included in that. The district administration has also issued notification of smart lockdown in 16 union councils.