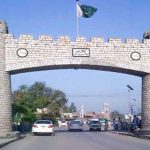 PESHAWAR: Khyber Pakhtunkhwa government has decided to restrict the number of people that can simultaneously pray inside a mosque.
According to details, KP government has taken this step in a bid to restrict the spread of the virus by further minimizing people's movements and gatherings. According to a statement issued by the Relief, Rehabilitation & Settlement Department, the number of worshippers allowed inside a mosque at a time has been restricted after consultation with respected Ulema.
It further states that from now, only five people including the management committee of a mosque will be allowed to pray in congregation. Regular citizens have instead been directed to offer prayers in the confines of their own homes.