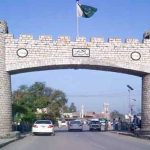 NOWSHERA: Federal Defense Minister Pervez Khattak has said that government has banned all public gatherings and all rallies are postponed till Eid-ul-Fitr.
In his address at a rally in Nowshera, Pervez Khattak claimed that Pakistan is moving towards prosperity and development and said that Prime Minister Imran Khan is taking serious steps to provide relief to the masses.
Talking about economic situation of the country, former CM Khyber Pakhtunkhwa said that Prime Minister took difficult decisions to put country back on the track as previous governments' failed polices put the country in debt and destroyed the economy.
Pervez Khattak said that health emergency has been imposed in the country on the direction of Prime Minister Imran Khan. He also advised people to take precautions to deal with the coronavirus.
He said the government and opposition are equally responsible for preventing spread of coronavirus.