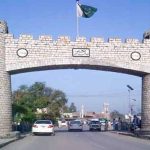 RAWALPINDI: Pakistan Army discussed the security situation in Afghanistan, a day after US Defence Secretary James Mattis urged Pakistan to "redouble" its efforts against alleged militant safe havens in the country.
Mattis was on a day-long visit to Islamabad, where he held meetings with the country's civil and military leadership.
The COAS, who chaired the 206th Corps Commanders' conference, "took the forum on board about his military diplomacy through his recent visits aboard and interaction with foreign dignitaries visiting Pakistan", the Inter-Services Public Relations (ISPR) said in a statement.
"Forum also discussed regional and internal security situation with specific reference to Afghanistan."
The forum, the communiqué said, concluded to continue efforts towards internal enduring peace while contributing towards peace in Afghanistan and the region.
It said that progress on the continuing Operation Radd-ul-Fasaad, enhanced security measures along Pak-Afghan border and recently initiated 'Khush Hal Balochistan' programme, which is aimed at stabilising Balochistan through socio-economic development and security, was also deliberated upon.