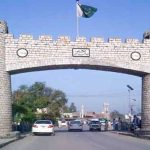 KOT ADDU: Pakistan Tehreek-e-Insaf Chairman Imran Khan continued his tirade against Pakistan Muslim League-Nawaz, and claimed that the parliament 'protected' Nawaz Sharif.
Addressing a rally in Kot Addu on Friday, Imran said that he went to all the institutions to seek action against Nawaz's corruption.
"We went to Supreme Court after all institutions refused to help us."
Corrupt rulers hamper a country's progress, he added.
"Iqama Khawaja Asif" had advised the Sharif family that people will forget about Panama case in a few days. "I want to ask Asif if his money was stolen that people will forget about it? You looted the money of the people of the nation."
Reiterating his earlier promises, he claimed that if he comes into power he will improve the police and education departments of all the provinces.
Earlier, Imran reached the venue of the rally along with other party leaders such as Jahangir Tareen and Aleem Khan.
PTI supporters have shown up in large numbers to attend the rally and show their support for the party.
While addressing a rally in Uch Sharif on Thursday, Imran claimed former prime minister Nawaz Sharif failed to provide a single document as evidence to the Supreme Court in the Panama Papers case.
The Supreme Court gave complete chance to Nawaz Sharif [to clarify] as to how did he send Rs300 billion abroad, he claimed.
"Nawaz Sharif lied and failed to present a single document as evidence," he said. "When the JIT [Joint Investigation Team] was formed, even then no evidence was provided to substantiate their claims."
The PTI chief questioned PM Shahid Khaqan Abbasi as to why was a criminal being given protocol.
"What message is being conveyed? Does this mean one should not steal small things and go for bigger ones?" he questioned, lamenting that prisons in the country are overcrowded with poor people involved in petty crimes.
"The one who took away Rs300 billion asks why was he ousted," Khan took a jibe at Nawaz. "You are attacking the courts to hide your corruption."
He said his party, after coming into power, will provide highest capital and facilities to farmers.
Noting that Rs200 billion is being spent on Orange Line Train that covers only 27 kilometres, the PTI chairperson said if a lesser amount is given to farmers, then it would bring prosperity in the country.