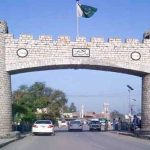 PESHAWAR: The billion tree project Monday echoed in Khyber Pakhtunkhwa Assembly as the opposition demanded investigation into corruption charges.
During the provincial assembly session, chaired by speaker Asad Qaiser, the rebel PTI member Zialullah Afridi alleged the provincial government was offering millions of rupees to journalists not to report corruption in billion tree project.
He said that Imran Khan was claiming of eliminating corruption. However, he added, the PTI government was hiding the corruption in the province. He asked the speaker to give ruling for investigation into the corruption charges.
Responding to Afridi, provincial minister Mushtaq Ghani claimed that WWF had appreciated the billion tree project. He said that the provincial government was being accused of purchasing the sapling for Rs25, while the government had purchased sapling for Rs2.
However, the ANP Member Syed Jafar Shah alleged billion of rupees corruption in the project and said that the WWF had survey only 10 per cent of trees. He said that if there was no corruption, then why the government was hesitating from asking Ehtesab commission to probe the charges.
Mushtaq Ghani said that the opposition members could submit complaint in the commission, and the government would not go to ehstesab commission against itself.
The provincial assembly also passed a bill for regularization of 4700 employees of 58 different projects in the province. The PPP's MAP Fakhar-e-Azam demanded regularization of the 14000 employees of different projects. PPP's Mohammad Ali Shah Bacha also demanded regularization of the previous projects employees.
However, Mushtaq Ghani promised that a separate bill would be presented in the house for regularization of the previous projects employees. The speaker suggested that a private member bill could be presented in the house in this regard.
The provincial assembly also passed films, CD dramas, stage dramas and stage shows censorship bill.
Meanwhile, the PPP's Nighat Orakzai strongly opposed merger of Benazir Children Hospital in Mardan Medical Complex and said that the children hospital was being merged only for political point scoring and 300 posts.
Health minister Shehram Khan Tarkai assured that the recruitments would be made through NTS and the hospitals were being merged in the best interests of the people not for any political purpose.