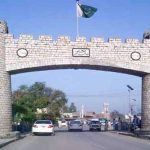 ISLAMABAD: A countrywide campaign to administer anti-polio drops to children under five years of age starts on Monday.
National Coordinator of Polio Eradication Programme Dr. Rana Safdar has said that the anti-polio drive will target 39 million children in all four provinces, Azad Kashmir and Gilgit-Baltistan.
He urged the people to cooperate with polio teams to administer drops to their children against this crippling disease.
According to the Prime Minister's Focal Person on Polio Eradication Babar Bin Atta, "the country has the best opportunity to stop transmission of poliovirus, and its time to gear up our support to the brave frontline workers enabling them to reach and vaccinate every child". He said, "Presence of virus anywhere is a threat for vulnerable children. The continuous population movement to and from many of these metropolises pose a real risk to the children elsewhere as well. I can't emphasize enough how critically important it is to ensure that each and every child is vaccinated during the upcoming polio campaign in the month of April."
During this campaign starting on April 22, a total of 260,000 frontline workers will go door to door across all provinces and towns to ensure more than 39 million children receive two drops of the polio vaccine which will protect them against the poliovirus.