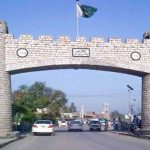 ISLAMABAD: Following the deadliest attack on Police Training Center in Quetta that killed at least 60 people, security has been put on high alert in all the major cities across the country to avoid any untoward incident.
Major General Sher Afgan, Chief of FC in Balochistan, said "the attack was over in around three hours after we arrived" and added, the militants belonged to the Al-Alimi faction of the Lashkar-e-Jhangvi militant group – which is affiliated with the Pakistani Taliban.
Security has been increased in the federal capital Islamabad and Rawalpindi with a major focus on important buildings including the Benazir Bhutto International Airport, Pakistan's third-largest airport, serving both Islamabad and Rawalpindi in Punjab. Law enforcement agencies also claimed to have arrested at least 33 suspects during an operation in Rawalpindi.
Meanwhile, in Peshawar, security on all the important government installations and educational institutions in Peshawar and other cities of Khyber Pakhtunkhwa were increased.
Similarly, in Karachi, police and Rangers officials have increased their surveillance after yesterday's deadly incident in Quetta. Inspector General Police Sindh A.D. Khawaja has ordered to improved security around schools, colleges and the police training centre in Karachi.
While increasing security in the walled city of Lahore, DIG (Operations) Dr Haider Ashraf has directed to conduct a detailed scrutiny of security officials deployed at important buildings currently being used by the police department.
Three gunmen burst into the sprawling academy of Police training college Quetta on Monday night, targeting sleeping quarters, home to some 700 recruits, sending terrified young men fleeing.
The attack on the college, around 20 kilometres east of Quetta, the provincial capital of Balochistan, began at around 11:10 pm (1810 GMT), with gunfire continuing to ring out at the site for several hours.
Most of the casualties occurred when two of the gunmen blew themselves up while the third was shot dead by the paramilitary Frontier Corps (FC), said Sarfaraz Bugti, home minister of Balochistan.