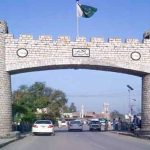 KARACHI: A sessions court in Karachi on Saturday acquitted senior politician Farooq Sattar in a case pertaining to violating the Loudspeaker Act.
Sattar was indicted in the case on October 3, 2018, where he had pleaded not guilty to the charges.
A case had been registered against Sattar at the New Town police station in Soldier Bazaar in 2015 for protesting against water shortage and violating the Loudspeaker Act, which pertains to using a loudspeaker in the red zone. He had approached the court for bail in June.
Cases were also registered against Haider Abbas Rizvi. Nasreen Jalil, Wasay Jalil, Faisal Sabzwari, Khalid Maqbool Siddiqui, Waseem Akhtar and others for violation of the Loudspeaker Act and Section 144 of the Pakistan Penal Code.
Muttahida Qaumi Movement-Pakistan leaders Siddiqui and Rizvi were later declared as absconders in the case.