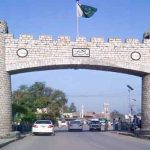 ISLAMABAD: A local court in Islamabad on Thursday exempted Pakistan Tehreek-e-Insaf (PTI) Chairman Imran Khan from personal appearance in the Toshakhana case and sought arguments on the admissibility of the case at next hearing on April 29 next.
"Imran Khan's life is in danger. The government has withdrawn security from him. The high court has also sought a report on the withdrawal of his security," Imran Khan's lawyer Khawaja Harris argued before the court.
"Imran Khan did not appear in the sessions court due to security concerns. He can appear in the court through video link. He should be exempted from personal appearance," he added.
"Please let me know about the upcoming court hearing with consultation," Judge Zafar Iqbal told the PTI lawyers.
After listening to the arguments from both sides, the court adjourned further hearing of the case till April 29 after Eid.