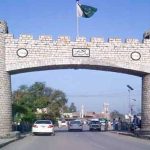 ABBOTTABAD: A judicial magistrate on Wednesday allowed an application seeking exhumation of the body of 12-year old housemaid Misbah, who died at the residence of the brother of PTI leader and provincial minister Mushtaq Ghani, for postmortem.
Misbah, who used to work at the house of Shoib Ghani, brother of the provincial minister, died on January 25 under mysterious circumstances.
A fact-finding committee constituted to probe the death of the teenage housemaid approached a magisterial court seeking permission to exhume her body for medical examination to ascertain the exact cause of her death.
Subsequently, Judicial Magistrate Aijazur Rehman allowed its request for exhumation of the girl's body.
The probe into the death of Misbah was ordered after rumors of her death owing to physical torture began to circulate.
Her body is expected to be exhumed tomorrow for medical examination.
The fact-finding body said if the postmortem report established that the girl died of torture, then legal action would be taken against her employers.
It expressed displeasure that the body remained at a hospital for more than an hour and was examined by medical officers there, but they failed to established the cause of her death.
The committee has recommended action against the doctors who examined Misbah over their dereliction of duty.