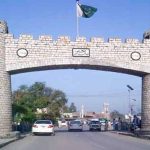 HARIPUR: District and Session Judge Haripur Amjad Khan Friday rejected the bail before arrest (BBA) of four hunters in illegal hunting of Grey Goral case and handed them over to police for two days judicial remand.
The accused were caught red-handed by officials of Wildlife department while illegal hunting female Grey Goral in Ratti Dandi Beer area.
According to Wildlife act, Gray Goral was declared as a protected species and its hunting was prohibited.
The four hunters were identified as Hassan s/o Anwar, Atif s/o Malik Javed, Ejaz s/o Nawaz Khan and Waqas s/o Akbar.
Wildlife department Haripur recovered the arms and ammunition from the four accused and also registered a case under section 20 of wildlife in Beer Police Station. The accused got BBA from a district and session court but was rejected.
The department continued its struggle and prosecuted the case in court of law resultantly District and Session Judge Haripur canceled the BBA of all four accused and granted their two-day judicial remand for further investigation.
District Haripur is famous due to diverse species of animals. People from all around Pakistan and world come the district in hunting. The locals of the district have demanded of the government to declare this district as national park and take immediate steps to stop the hunting in the area.