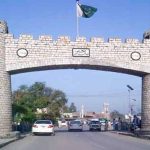 KARACHI: The Sessions court of Karachi on Thursday rejected Axact Chief Executive Officer (CEO) Shoaib Shaikh's bail plea in money laundering case.
The Federal Investigation Agency had arrested Shoaib Shaikh on February 26 shortly after Sindh High Court accepted FIA's plea against Axact CEO acquittal in the same case and dismissed his protective bail plea.
On the very next day, Shoaib Sheikh was sent to jail on judicial remand till March 03 after FIA presented the accused before the court of Additional District & Sessions Judge South.
The Supreme Court had earlier last month directed the SHC and the Islamabad High Court hearing the Axact fake degree cases to wrap up the appeals against the acquittal of suspects in a matter of weeks.
Aggrieved with the acquittal of Axact CEO and director M/s Chanda exchange Mohammad Younus and branch manager Mohammad Junaid in a money laundering case, FIA appealed against the acquittal of the accused without framing of charge and recording of the prosecution evidence by the trial court in 2016. The FIA pleaded to set aside the acquittal.
According to the FIA, accused Shoaib Sheikh opened an account in a bank in the name of his mother and while using mandate in his own name, issued 116 cheques through his own signatures in favour of vendors of a Dubai based company allegedly owned by the accused.
The cheques were delivered by the Axact employees to the co-accused directors and branch manager of M/s Chanda Exchange though there were no business deal between the two. The FIA submitted that the trial court failed to appreciate the evidence which was not denied by the accused connecting the accused with the illegal money transfer which is punishable under foreign exchange regulation Act. The FIA submitted that Axact transferred over Rs.170 million to Dubai based vendors through M/s Chanda exchange.