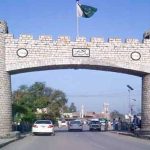 ISLAMABAD: A sessions court in the federal capital on Tuesday rejected a plea seeking dismissal of the Lal Masjid case against former president Pervez Musharraf.
The plea, submitted by the former president's advocate, Akhtar Shah, prayed upon the court to dismiss the case which was initiated in 2007. A similar appeal was also submitted in the murder case of Ghazi Abdul Rasheed.
Justice Raja Asif Mehmood of the district and sessions court announced the verdict in the case, which was reserved prior to today's hearing. A detailed verdict in the case would be announced at a later date.
Chief Justice of Pakistan (CJP) Mian Saqib Nisar has nominated Lahore High Court (LHC) Chief Justice Yawar Ali as head of a three-judge special court holding high treason trial of former military ruler Gen (retd) Pervez Musharraf on the charges of subverting the Constitution by imposing emergency on November 3, 2007.