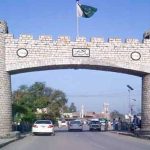 MULTAN: Cleric Mufti Abdul Qavi has pledged struggling against women violence and developing forums against women killings in the name of honor.
Talking to this scribe before stepping in court, he said, "I am seriously thinking to develop a forum against women violence and killing in the name of honor. Soon I will announce a detailed charter against violence in consultation of close aides. There is a dire need to protect women from all types of violence."
Earlier, District and Session Judge Multan Ameer Ahamed Khan granted bail of cleric Mufti Abdul Qavi, the co-accused in social media celebrity Qandil Baloch murder case and ordered to submit Rs 200,000-surety bond on Tuesday, court sources said.
Mufti Abdul Qavi's counsel Syed Khurram Shahzad said the cleric would be released from district jail court time on Tuesday.
It is worth mentioning that the D&SJ announced his first verdict after shifting of all the lower courts at newly established Judicial Complex while district bar association observed strike against shifting of lower judiciary at new Judicial Complex on Tuesday.
While arguing in favor of bail, the counsel Syed Khurran Shahzad argued that no recovery could be made from cleric Mufti Abdul Qavi after spending thirteen days in police custody on physical remand.
He challenged the polygraph test and said it had no legal worth, while police could not produce solid evidences into calls made from Saudi Arabia.
The counsel argued that police could produce mobile sets of Mufti Abdul Qavi on remand papers. He said that Mufti Abdul Qavi handed over those mobile sets voluntarily to police to check calls data instead police recovered from cleric during investigation.
Earlier, Mufti Abdul Qavi was produced before D&SJ court at new judicial complex aimed tight security. He was brought from Multan district jail. The court sent Mufti Abdul Qavi on judicial due to lack of submitting complete challans by police on Monday.
He sent on judicial for seven days and fixed November 20 next date of hearing. However, clerics' counsel filed his after arrest bail application and the D&SJ granted his bail. The judge also ordered the accused submission of Rs 200, 000 surety bonds for release.
Mufti Abdul Qavi managed to escape from court after dismissal of his pre-arrest bail on October 19. However, police traced him through his mobile phone when he was fleeing from Multan to Jhang on the same day.
Meanwhile, Mufti Abdul Qavi released from jail and large numbers of his friends, family members and relatives received him warmly.