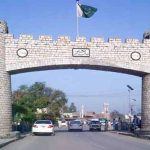 ISLAMABAD: A local sessions court in Islamabad on Friday reserved his judgement on the petition seeking cancellation of arrest warrants against former prime minister and PTI Chairman Imran Khan in the female judge threating case.
Additional Sessions Judge Faizan Haider Gilani heard the petition filed by the PTI chairman seeking annulment of his arrest warrants in the female judge threating case.
Earlier, the judge announced a break in the case hearing till 10:30am today when Imran's lawyers did not show up.
However, after the resumption of the hearing, the judge reserved his ruling on the petition.
At the outset of the case proceedings, prosecutor Rizwan Abbasi pleaded with the court to bind Imran to appear before the court during next hearing.
Judge Rana Mujahid Raheem issued non-bailable arrest warrants against Imran in the judge threat case.
However, the PTI chief filed a petition requesting the court to cancel warrants issued against him.