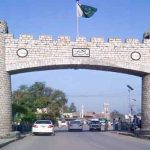 ISLAMABAD: A local court in Islamabad Thursday reserved verdict on the Imran Khan's plea for suspension of non-bailable arrest warrants in the Toshakhana case.
Additional District and Sessions Judge Zafar Iqbal, who had issued Imran Khan's arrest warrants, heard the application of PTI'\s chairman.
During the hearing, the PTI chief's lawyer Khawaja Harris read out the IHC's decision and urged the court to suspend arrest warrants of Imran Khan as he is ready to appear before the court on March 18.
The judge asked the lawyer that has Imran Khan presented himself before the court, saying, "We want Imran Khan to appear before the court. Why isn't he presenting himself before us? What's the reason behind it?" he asked, noting that in line with the law, Khan should assist the police and not resists it.
"Imran Khan created a scene by resisting [arrest]," the judge said, adding that the IHC's order also mentions that the lower court's order should not be affected through "illegal actions".
Khwaja Haris requested the court to suspend the arrest warrants, saying that Imran Khan wants to give an undertaking to the court that he will appear in the session court on March 18.
The court also issued notice to Election Commission and adjourned the hearing till 12pm today. When the hearing resumed, the counsel for Election Commission opposed the Imran Khan's application and requested the court to reject the application as Imran Khan had also given assurance in the past that he would appear before the court.
Imran Khan's counsel said that the court should make a decision after analysing all the aspects. In response, Judge Iqbal said that the court's decision was valid and in line with the law.
Islamabad Inspector General of Police Akbar Nasir Khan said police representatives were not allowed to meet the former prime minister.
The IGP said that "no one" from the PTI leadership spoke to Islamabad police and instead, Molotov cocktails were thrown at them. "Police personnel, who were at Zaman Park to implement court orders, were tortured."
He added that the personnel were not carrying any weapons and asked the court what answer would he give to the families of the law enforcers who were injured.
After arguments of the lawyers, the court reserved the verdict and said that a detailed verdict would be announced today.