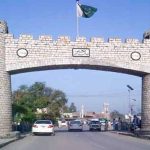 ISLAMABAD: The ousted prime minister Nawaz Sharif has deplored the terms of "Sicilian Mafia" and "godfather" used by judiciary in Panama Papers verdict and said that the courts' double standards were evident.
Talking to media before appearing in the accountability court here in Islamabad on Wednesday, he said his government was not allowed to work; however the country made progress despite the sit-ins which began from 2014.
Referring to the courts' alleged lenient attitude towards Pakistan Tehreek-e-Insaf (PTI) Chairman Imran Khan, Nawaz said the rules of the game should be the same.
He said court decisions in their case come swiftly and wondered when the decision on 'their' cases will come. "The courts' double standards are becoming evident," he said further.
Nawaz also hit out at Khyber Pakhtunkhwa Chief Minister Pervez Khattak saying he used official vehicles to lead rallies against the federal government during the 2014 sit-in.