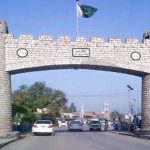 PESHAWAR: Adviser to Chief Minister Khyber Pakhtunkhwa on Information Ajmal Wazir has expressed his concerns regarding coronavirus saying that the threat is increasing with each passing day.
While briefing media in Peshawar, Ajmal Wazir Khan said that relaxation in the lockdown given by the government does not mean a free-for-all, everyone must take precautionary measures. Otherwise, the virus cannot be overcome.
Ajmal Wazir said that the risk of the virus is increasing with more cases coming from Peshawar. He urged the public to take precautions as just one person can spread the virus to their homes, neighborhoods and entire areas, therefore, people should be remain isolated inside their homes.
On the topic of hoarding, he said the ordinance against hoarders has come into force and shopkeepers stockpiling any of the 32 specified essential items will be arrested without warning. Hoarders will face three years imprisonment and fines for their crimes while the confiscated goods will be auctioned, with the concerned whistle-blowers receiving 10% of the seized goods' value, he added.