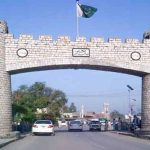 PESHAWAR: Special Assistant to Chief Minister for Information and Local Government Kamran Bangash said on Friday that the recovery rate among patients from the coronavirus is around 71%, while there is a decline of 25 to 15% in the positive cases' rate.
The official made the remarks during a media briefing at the Directorate of Information. He said that the virus cases had been on the rise in the last two months but now, the number of COVID-18 patients is decreasing daily due to the efforts of the provincial government, health department and the public's cooperation.
In an area of one million, the KP government has conducted 5,000 tests and provided adequate medical facilities to the virus patients.
"Doctors, nurses and paramedics staff are our frontline heroes who are risking their lives to provide medical care to patients," the special assistant said.
Bangash said that Focal Person of the Prime Minister for Covid-19 Dr Faisal Sultan and Interior Minister Ejaz Shah had appreciated the steps taken by the Khyber Pakhtunkhwa government.
The public has also appreciated the provincial helpline 1700 for coronavirus-related issues, he said, adding that frequent calls regarding information and guidance were being received by the relevant department.
Since April 2020, the helpline has received more than 274,000 calls, helping around 136,239 people with information related to COVID-19 and their issues.
The special assistant said that the smart lockdown was imposed in 18 different areas across the province as of this week, adding that so far, there have been more than 144 smart lockdowns imposed in affected areas across KP.
He added that 378,687 people and 3,614 houses have been under quarantine in these areas in the province.