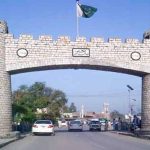 ISLAMABAD: Special Assistant to the Prime Minister on National Security Moeed Yusuf on Monday has said that the coronavirus tests of the Pakistanis returning from abroad will be carried out on an immediate basis.
While addressing a press conference, the special assistant said that policy regarding the coronavirus has been changed consultation with all the provinces.
All the provincial authorities have been directed to try to announce the results of coronavirus tests in 24 hours. Those who test negative will be sent home while people with positive tests will be quarantined either at government facilities or at their homes, he added.
Dr. Moeed Yusuf said that the government has planned to bring back home about twelve thousand Pakistanis stranded in foreign countries in next ten days.
He told that about 20,000 stranded Pakistanis have so far been brought back home while 110,000 other Pakistanis in foreign countries desire to return home.
The special assistant said the government plans to operationalize Sialkot and Quetta airports as well in days to come.