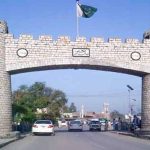 ISLAMABAD: Deputy Chairman Planning Commission Sartaj Aziz says economically strong Pakistan can defeat terrorism and extremism and ensure regional stability.
He was addressing a conference titled Dynamics of Geopolitics, Regional Security and Economic Connectivity in Islamabad today (Monday).
Sartaj Aziz said China Pakistan Economic Corridor is a vital project and guarantor of shared progress and prosperity.
He said Pakistan acts as a bridge between Europe and Asia, due to its strategic location and provides corridor for trade, economic and other activities in the region.
Deputy Chairman Planning Commission said economy of the country is emerging at fast pace due to prudent economic policies of the government.
He said relations between Pakistan and Russia are of vital importance and both countries are expanding their ties to boost economic activities.