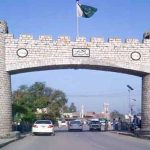 LAHORE: Prime Minister Muhammad Nawaz Sharif has said that China-Pakistan Economic Corridor (CPEC) project will generate economic activities and bring about prosperity in the country.
He was addressing the inaugural ceremony of newly-installed Security System at the Allama Iqbal International Airport in Lahore on Monday.
PM Nawaz Sharif said that such projects would help improve the living standard of people.
He directed the CAA officials to provide modern facilities of international standard to the passengers at the Airports.
Nawaz Sharif advised them to complete the expansion of Lahore Airport keeping in view future needs due to increase in number of passengers and air traffic.
Defense Minister Khawaja Mohammad Asif and adviser to the Prime Minister on Aviation Shujaat Azeem were also present.
Our Lahore representative says that the new Airport system has been manufactured by Pakistani engineers within four months.
Pakistan is the second country after China in Asia where this modern security system has been installed for the security and safety of passengers.
Briefing on the Airport's Security System
On the occasion, Director General Airports Security Force (ASF) Maj. Gen. Sohail briefed the Prime Minister on the new system.
The Prime Minister was also given presentations on extension of Allama Iqbal International Airport, enhancement of in-flight facilities for passengers by civil aviation authorities and PIA.
This modern security system has been indigenously manufactured within short span of four months by Pakistani engineers.
Pakistan is the second country in Asia where this modern security system has been installed for the provision of security and safety to the passengers.