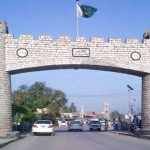 ISLAMABAD: An event was held to inaugurate the website of China-Pakistan Economic Corridor, which according to Mushahid Hussain, will be used to relay information to the general masses regarding the project and dispel damaging rumours about it.
According to details, an event was held to mark the opening of the CPEC website, in which Chinese Ambassador Sun Wi Dong also participated. Senator Mushahid Hussain Syed addressed the attendees and informed them regarding the website.
"The website will provide information regarding CPEC project," he said. "The website will clear misconceptions about the project," he added.
Mushahid Hussain said the whole country would reap the benefits of CPEC project and said that Pakistan was ready to face the challenges of completing the project. Sun Wi Dong also addressed the participants of the launching ceremony.
"Tremendous work on the China-Pakistan Economic Corridor has already begun," he said. "China has already established the Silk Road Bank and Asia Infrastructure Bank," he added.
The Chinese Ambassador further said that 10,000 local people had gained employment via 17 projects of the CPEC.