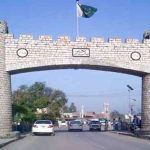 ISLAMABAD: Federal Minister for Planning and Development Ahsan Iqbal has said that the western route of China-Pakistan Economic Corridor (CPEC) would be completed by 2018.
Presiding over a meeting regarding CPEC, Ahsan Iqbal criticized the Khyber Pakhtunkhwa government for moving to high court on CPEC, saying that the move will create problems for the province itself.
He said that there was Parliamentary Committee on CPEC and the KP government instead of taking its reservations to the Committee moved to the court, which was deplorable.
He recalled that Chief Minister KP Pervaiz Khattak had supported ongoing work on the corridor project at the CPEC summit held on August 29.
The minister said that investors could not be attracted through litigation.
Ahsan Ibqal informed that Gawadar-Quetta Road would be completed by next month, ahead of its scheduled time.
He said work on Dera Ismail Khan-Quetta Road had also been initiated while the Dera Ismail Khan-Burhan Road would be completed by year 2018.
He said that CPEC will bring prosperity to the backward and far off areas of country. He said that special attention has been given to Sindh and Balochistan in CPEC projects as the raw coal for the coal-run projects can easily be provided to plants in these two provinces.
He said that he had provided CPEC related documents to the Khyber Pakhtunkhwa Chief Minister Pervez Khattak at the All Parties Conference and was ready to visit Peshawar again to clear any point in this regard.