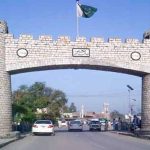 KARACHI: A wanted criminal mysteriously passed away overnight in custody at Aziz Bhatti police station in Karachi, source said on Wednesday.
Police arrested the criminal, Wasim, some days back for possessing illegal firearms.
During interrogations, the criminal disclosed about a location where he hid illegal firearms. Police took him along and were on way to raid the place identified by him when he broke down. Police rushed him to hospital but, he died before reaching the hospital.
His body was shifted to Jinnah Hospital where his post mortem was conducted. Police force of all east zone was called in on the spot.