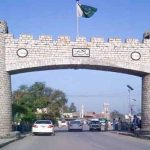 RAWALPINDI: The Counter-Terrorism Department (CTD) on Thursday claimed to have arrested a terrorist belonging to the banned organisation in Rawalpindi.
CTD officials relayed the arrest was made on a tip-off in Rawalpindi's area of Mankial. Arms and explosive material were also recovered from his possession.
CTD officials said that the arrested terrorist identified as Mujahid Iqbal was planning to carry out terror activity in Rawalpindi.