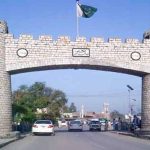 PESHAWAR: The Counter Terrorism Department (CTD) has arrested an extortionist Iqbal Ali Shah from FC Chowk here in the metropolitan city on Thursday.
A statement of the CTD said that the accused had demanded Rs. 2.5 million extortion from a local businessman who had lodged a report against unknown persons.
As a result of investigations after registering the case, the CTD arrested the accused who belonged to Takht Bhai subdivision of District Mardan, the statement said.
It further read that the accused has been shifted to an undisclosed location for interrogation.