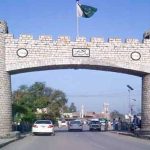 MULTAN: The Counter-Terrorism Department arrested on Friday four terror suspects during a raid in Multan.
The CTD said that it was tipped off about the presence of the suspects near the Multan-Bahawalpur bypass. It is being reported that the suspects belonged to the Tehreek-e-Taliban Pakistan.
The department even recovered hand grenades, weapons and cash from them. They said that the terror suspects were planning an attack in Multan.