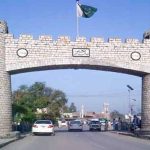 PESHAWAR: The Counter-Terrorism Department (CTD) has arrested a terrorist Hanifullah aka Khalifa from Board Bazaar, said a statement of CTD issued on Friday.
According to the statement, the CTD conducted an intelligence-based operation on the bank of canal in Board Bazaar and arrested the terrorist.
Hanifullah was involved in an attack on police party in 2014 and killing a policeman after abducting him, the statement added.
It read that the terrorist identified his accomplices during the course of interrogation adding that one of the identified persons has already been arrested.
Hanifullah alias Khalifa belonged to Aka Khel area of Bara Subdivision in Khyber Agency, the statement read.