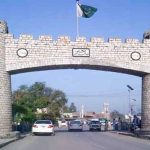 KARACHI: The Counter Terrorism Department (CTD) of the Sindh police on Monday arrested three facilitators of the terror attack on Karachi Police Office.
According to sources, the law enforcement agency conducted raids in the Afghan Basti area of Sohrab Goth on the outskirts of Karachi after geofencing data identified several facilitators of the terror attack that shocked the city on Friday.
The suspects were apprehended during the raids and have been taken into custody for further questioning.
Some mobile SIMs have been recovered from the detained people, the CTD sources said, adding more than 100 mobile numbers were declared suspicious in geofencing. Out of those 100 numbers, at least 10-12 numbers are switched off since then.
The CTD has said that the arrests were made after a thorough investigation, and they expect to gather more information about the attack and those responsible for it.
KPO attack
On February 18, Tehreek-e-Taliban Pakistan (TTP) terrorists stormed the Karachi Police Office, located on the main Shahrae Faisal artery.
The attack led to an hours-long siege and floor-by-floor operation by security forces in which all four attackers ended up being killed. In contrast, four security officials and civilians were killed and over 19 were injured.
After three and a half hour ordeal, a joint operation of the security forces managed to clear the main building of the KPO and of all terrorists, and a search operation was launched.