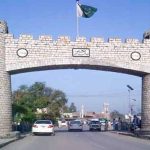 PESHAWAR: The apex committee has decided that the CTD Headquarters building and forensic lab would be set up in Khyber Pakhtunkhwa on emergency bases, says the statement issued after the apex committee meeting, which was chaired by Prime Minister Shehbaz Sharif. It was also decided that like Islamabad and Lahore, Safe City project would also be started in Peshawar.
The apex committee meeting was attended by federal ministers, army chief, chief ministers of four province, chief minister of Gilgit Baltistan, prime minister of Azad Kashmir, leaders of different poliical parties including PPP, ANP, JUI, QWP.
The meeting also agreed to abolish all the sources assisting the terrorists in the country and directed effective screening, the statement said.
Adopting a zero-tolerance approach against all kinds of terrorism would be the national motto, while implementation of the decisions would be ensured by national consensus, the huddle decided, according to the statement.
The meeting reviewed in detail the incidents of terrorism, particularly the attack on Police Lines and the situation that followed during which representatives of intelligence agencies briefed the committee on the overall security situation and operations against terrorists in the country.
Khyber Pakhtunkhwa Inspector-General of Police Muazzam Jah Ansari also updated participants of the meeting regarding the investigation of the Police Lines blast and the progress made so far. Ansari informed attendees about the way and routes of the attacker's arrival in the area, which the police has identified through videos.