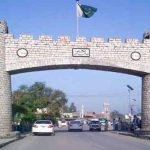 LAHORE— The law enforcement agencies have arrested two facilitators of the Anarkali blast and identified the main culprit involved in the gruesome incident.
According to details, the Counter Terrorism Department (CTD) arrested two terrorists including the main suspect, in a successful operation.
Revealing the identities of the terrorists— Sanaullah and Abdul Razzaq— the CTD Punjab spokesperson stated that explosives, detonators, batteries and remote controls were recovered from them during apprehension.
Reportedly, the security forces had a tip-off regarding the whereabouts of the Anarkali blast facilitators, as they were returning Lahore from Balochistan by truck to carry out another explosion.
The seized belongings were to be used in two separate bomb blasts in Lahore, added spokesperson.
Moreover, investigation is underway after shifting them to an unknown location.