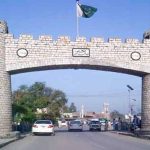 KARACHI: Additional Inspector-General (AIG) of Counter-Terrorism Department (CTD) Sanaullah Abbasi has sought help of Inspector General Police (IGP) Khyber Pakhtunkhwa Salah-ud-Din Mehsud in Naqeebullah Mehsud's murder case.
According to media reports, Abbasi contacted Salah-ud-Din Mehsud to provide security to the family Naqeebullah Mehsud the way from their residence to Karachi.
The AIG said that IGP KP Salahuddin Khan Mehsood has assured him that Naqeebullah's family will be sent to Karachi under full security so that they could participate in the investigation, the reports said.
Commenting on the progress of the committee formed to probe the killing, Sanaullah said the committee would have regular sessions and would show progress too.
Naqeebullah was among four suspected terrorists killed in an 'exchange of fire' with a police team headed by Malir SSP Rao Anwar on January 13 in Shah Latif Town.
However, his family later stated that Naqeebullah was innocent and gunned down in a fake encounter.
Meanwhile, KP IGP sent two vehicles of the Elite Force to Makeen, South Waziristan, to provide security to Naqeebullah's family on their trip to Karachi.