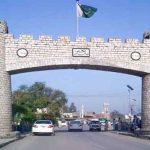 ISLAMABAD: Former prime minister Nawaz Sharif on Tuesday said the judiciary has always provided relief from restrictions put in place by dictators, however, the current judiciary places 'unprecedented' restrictions.
Talking to media outside the accountability court, Nawaz said the National Accountability Bureau (NAB) should stop behaving as if a martial law is in place. Nawaz further said that he is sure that his remarks will be censored and not aired on TV channels, but as a citizen of the country, he holds the right to voice his opinion.
The former premier also said that the Musharraf era "black law" needs to be scrapped, and the people and the civil society agree that the judiciary should be reformed.
The PML-N Quaid also claimed that there is no evidence of multiple cases he is under trial for. "Allegations of millions and billions of rupees are levelled against us, but not a single allegation has been proven to date," he added.
"We didn't purchase the London flats from the national treasury, if they claim we obtained assets through corruption, then it should be made clarified and lacking proof of corruption, this matter should be closed," Nawaz said.
Nawaz Sharif dismissed chances of corruption in the ongoing cases against him and his family. "Allegations of corruption of billions were leveled against me but nothing has been proven so far," he said. He said that whatever they had was bought from personal money and not from the national exchequer. He said that if there is no corruption, this series of vindictive cases need to stop.
Maryam Nawaz also said that there is no point in prolonging the cases any further after the testimony received yesterday. She said that the allegation of London flats being in her name was completely baseless.