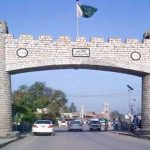 KARACHI: Custom authorities Friday seized over 160 shipping containers during a raid in Mauripur area of the port city.
According to reports, the empty containers were meant to transport equipment used by Nato and International Security Assistance Force (ISAF) stationed in Afghanistan back to Karachi port.
Chief Collector Custom said that all the containers were found empty and an investigation is underway to ascertain the fate of equipment.
He said 162 shipping containers were seized in a raid at a warehouse in Mauripur area of the city and an 11-member team has been set up to investigate the matter. He said the warehouse has been sealed.– Agencies