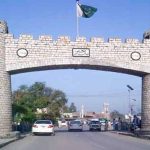 KARACHI: An under-arrest Daesh operator Saiful Islam has revealed to Federal Investigation Agency (FIA) during the course of interrogation that he would run social media network for the organization in Pakistan.
After the sizzling revelations of Saiful Islam, the FIA has expedited investigations saying that arrested terrorist was working to strengthen Daesh's network across Pakistan.
A statement issued by the FIA while quoting Saiful Islam said that the network of Daesh was active near Pak-Afghan border and its operatives were being directed from there.
The statement added that videos of violence and murders have also been recovered from the terrorist.
Saiful Islam – who had been arrested by law enforcement agencies in Karachi – belonged to Balochistan, the statement said and added that the ambit of investigations has further been extended after his revelations.