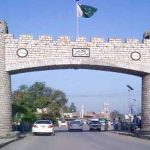 MOHMAND: Prime Minister Muhammad Shehbaz Sharif said dams play an important role in the production of cheap electricity and prevention of floods.
Talking to media during his visit to Mohmand Dam Project site in district Mohmand on Monday, he said solar, wind, and hydel power projects are cheap sources of electricity and we should focus on it.
Muhammad Shehbaz Sharif said the dam will be constructed within its stipulated time which will bring agricultural development in the area.
He said the country is importing expensive oil for the production of electricity due to which the cost of electricity production is very high. He said dams play important role in prevention of floods .
Shehbaz Sharif said that huge damages have been caused by the floods and the rehabilitation process will take time.
Prime Minister Shahbaz Sharif said the friendship of China with Pakistan is exemplary and the cooperation of China in power projects is very important.
On this occasion, the Chinese and site engineers also briefed the Prime Minister about the construction and engineering design of the project.
Earlier, Prime Minister Shehbaz Sharif visited Nowshera where he was briefed by the Chief Secretary Khyber Pakthunkhwa Dr Shehzad Bangash, Deputy Commissioner Nowshera, and representatives from NDMA and PDMA on ongoing relief operation. The prime Minister directed the authorities concerned to utilize all- available resources to immediately rescue and relocate flood-hit people.