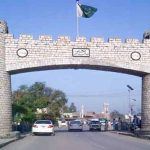 PESHAWAR: Central president of ANP Asfandyar Wali Khan has said that a dangerous game is being played regarding Afghanistan issue.
Addressing a press conference here on Thursday, the ANP chief said that if the Afghan government was not accepted as party to the dispute, then Taliban's tenure like situation would return in Afghanistan. How could the issue be solved, when the party to the dispute was not accepted, he said.
He said, "the problems will remain even the US quits Afghanistan". He said that if compromise was made the Taliban, then the IS would its activities, then tomorrow someone else would also start activities in Afghanistan.
The ANP leader supported the stance of Aftab Ahmed Khan Sherpao that the Pakhtuns should sit together and suggest a solution to the problem.
Asfandyar Wali Khan demanded of the government to make public the investigation into to SP Tahir Dawar kidnapping and assassination. He said that had the government implemented the NAP, Haroon Bilour and Tahir Dawar like cases would not have happened. He regretted that the accused in Naqeebullah has been retired, but he was not punished. He said that the opposition was being eliminated in the country. He also expressed concern over reports about changes in 18th Amendment.