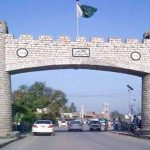 ISLAMABAD: The Supreme Court (SC) has on Wednesday granted 10 days to Federal Privatization Minister Daniyal Aziz for finalizing his lawyer in contempt of court case.
SC's three-member bench headed by Justice Sheikh Azmat Saeed conducted proceedings after the Minister arrived in the court.
Justice Saeed asked Aziz if he wanted to say something, to which he said, "You sent the notice, I turned up".
The bench then gave 10 days to Aziz for preparing his legal represntation in the case and adjourned the hearing until February 19.
It is worth mentioning that the SC had issued on Friday a contempt of court notice to Aziz and directed him to appear today, reportedly over his controversial speeches and statements made during various TV talk shows.