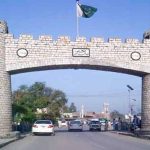 ISLAMABAD: Finance Minister Ishaq Dar denied the rumours that officials from the World Bank-IMF meetings refused to meet him. On the contrary, he explained that he postponed his trip to the US on the directives of the Prime Minister Shehbaz Sharif due to current political and constitutional crisis in the country.
Speaking at a press conference in Islamabad, the finance minister  said that Pakistan is a member of the IMF not a beggar. Dar clarified that the IMF does not have the power to stop him from attending the spring meetings. He tried to clear up the misconceptions about his visit to the US and his relationship with the IMF.
Ishaq Dar said that the Ministry of Finance has an important responsibility regarding money, the Supreme Court has ordered the federal government to pay the Election Commission Rs 21 billion. The Supreme Court has given the federal government until April 10 to provide funds, and the court has also sought progress report from the Election Commission by April 11.
He said that there is a state of constitutional crisis in Pakistan, and as a nation, we are stuck in a quagmire. "On the advice of the Prime Minister, I have canceled the visit to America, and I will participate in virtual meetings in Washington."
The Finance Minister said that loose talk and loose analysis are not appropriate for important national issues.