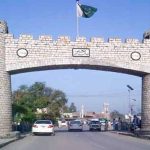 DARRA ADAMKHEL: The youth of Darra Adamkhel have launched a campaign against drugs in the area in association with the elders of the area. In several meeitings, the youngsters are informing the people about the hazards of narcotics from health and economic point of view, and also from religious angle.
The efforts of the youth bore fruit and the khateebs (prayer leaders) of about 95 mosques in the areas inhabited by Akhurwal, Zarghunkhel, Sheraki, Tor Chapar and Bostikhel during the Friday sermons put light on the hazards of drugs use from all angles.
Also, a grand Jirga of Adamkhel tribe was held at Shuhada Chowk last Sunday in which special invitation was extended to notables of four tribes of erstwhile Frontier Region (FR) Peshawar and Kalakhel tribe. During the Jirga, an appeal was made to the Adamkhel tribe to join efforts for eradicating narcotics.