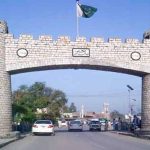 KARACHI: Darren Sammy, the captain of Peshawar Zalmi, visited Quaid's Mausoleum in Karachi.
Peshawar Zalmi owner Javed Afridi also accompanied him on the visit.
Sammy held a green flag in his hand as he visited the tomb of Quaid-e-Azam.
Not only that, he was wearing a traditional white Shalwar Kameez with a green coat.
Sharing a picture from the visit on his Twitter account, Sammy said that he is extremely honoured to have visited the tomb of Mohammad Ali Jinnah founder and father of this great nation.
Darren Sammy was truly inspired by Quaid's message of faith unity and discipline can make this world a much better place.
The players of Peshawar Zalmi have reached Karachi for Pakistan leg of Pakistan Super League (PSL) season 4.
The international players of Peshawar Zalmi had desi breakfast at the local hotel.
Some players had desi halwa puri while others, conscious of their health before match, only had some fruit.
The foreign players appreciated Pakistani food.