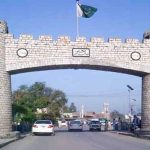 LAHORE: Another victim of Data Darbar blast has succumbed to injuries today (Friday) after which the toll has escalated to 12.
According to details, deceased Mudassir's family complained about the negligence and lack of health facility at the hospital and said that the victim died due to ill-treatment.
A total of twelve people, including five elite force personnel, a security guard and five civilians, have been martyred and 30 others sustained critical wounds in the attack that targeted vehicles of police elite force near the entrance gate for female visitors at Data Darbar.
Hundreds of Muslims were at the Data Darbar as the country marks the holy month of Ramazan. The impact of the blast shattered the windows in nearby vehicles and buildings, bystanders told the media.
"Police was the prime target in this attack. We are collecting forensic evidences to ascertain the nature of the blast. This attack has left nine dead and 24 injured," said Ashfaq Khan, deputy inspector general of police operations in Lahore.
The shrine has been targeted previously – a 2010 suicide attack there killed more than 40 people – and is guarded by heavy security.
An attack in Lahore in March last year left nine people dead, while a major blast targeting Christians celebrating Easter in a park in 2016 killed more than 70 people.