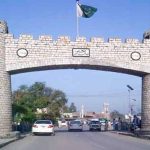 ISLAMABAD: The investigation report of Newsgate scandal has been presented to Federal Interior Minister Chaudhry Nisar Ali Khan on Tuesday.
The investigation report has specified people responsible for the Newsgate scandal that maligned Pakistan Army.
The interior ministry will dispatch the report to Prime Minister Nawaz Sharif today.
After a go-ahead from the Prime Minister, the report will be made public.
According to reports, Special Assistant to the Prime Minister on Foreign Affairs Tariq Fatemi, former Information Minister Pervaiz Rashid and Principal Information Officer Rao Tehseen have been held responsible by the Dawn leaks inquiry report for the controversy.
The inquiry report has been prepared by Justice (r) Aamir Raza who headed the commission that investigated the scandal. The report holds Tariq Fatemi, Pervaiz Rashid and Rao Tehseen responsible for the Newsgate scandal.
The report has also recommended that action be taken against the three for the Dawn leaks conundrum. The report was presented after a detailed investigation was conducted into the matter.
The committee claimed that mobile data from Tariq Fatemi, Pervaiz Rashid and Rao Tehseen's phones were also obtained to aid in the investigation.
In October 2016, Prime Minister Nawaz Sharif had asked Rashid to step down from the ministry a few days after the Dawn leaks scandal came to the fore.
The minister was asked to step down over his alleged role as a source for the report, which said civilian officials had warned the military to stop backing jihadist proxy fighters abroad.
The article, published in the English daily, Dawn, caused an uproar and the journalist who wrote it was briefly hit with a travel ban.
The Dawn story quoting official sources said that civilian government and military were not on same page regarding actions against some specific militant groups and there was heated exchange of words between Punjab CM Shehbaz and ISI chief during a national security meeting.
Pakistan army had dismissed the story as "unfounded and planted" and called for a probe into the leak.
Prime Minister Office and Punjab Chief Minister also rejected the report headlined "Act against militants or face international isolation, civilians tell military" published in Dawn on Oct 6.
Prime Minister Nawaz Sharif had directed that those responsible should be identified for stern action.