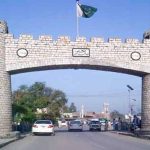 ISLAMABAD: Pakistan Muslim League-Nawaz (PML-N) leader Maryam Nawaz on Tuesday opened a new pandora box saying that Dawn leaks news regarding National Security Committee was correct.
Speaking to journalists outside accountability court, Maryam maintained that Pervez Rashid should not have been punished over the news leak.
PML-N supreme leader had also given the same remarks and confirmed that Dawn leaks news was based on facts.
The story about a meeting between the senior civil-military leadership had been published in Dawn newspaper on October 6, 2016, causing a storm in the country.