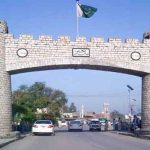 ISLAMABAD: The opposition parties on Wednesday, consecutively on the second day, walked out from the National Assembly (NA) over FATA Reforms Bill.
Speaking on the floor of NA, Pakistan Peoples Party's (PPP) MNA Naveed Qamar remarked that the Parliament was disrespected by taking out FATA Reforms Bill from the assembly agenda.
However, NA Speaker Ayaz Sadiq pleaded with Qamar to not walk out but Qamar replied: "We will continue to stage walkouts till the FATA reforms bill is presented in the assembly."
Qamar added that he was steadfast in the decision made by the opposition and he would stage a walkout.
Weighing in on the matter, Awami Muslim League chief Sheikh Rasheed asked as ro why the government was not presenting the bill.
"The parliament should not be insulted due to the actions of just two parties," he said, while referring to PML-N allies Jamiat Ulema-e-Islam-Fazl and Pakhtunkhwa Milli Awami Party which are opposing the merger of FATA with KP.