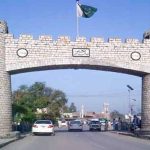 ISLAMABAD: One of the key road in the federal capital, Faisal Avenue Khayaban Chowk, was still closed as the Pakistan Kissan Ittehad sit-in entered its third day on Friday.
Two rounds of negotiations with the government have thus far ended in failure. Farmers have vowed to not leave until their demands were met. They have urged the government to raise wheat and sugarcane prices, halt the apparent black market in fertiliser, and provide subsidy on electricity and diesel.
Hundreds of farmers entered Islamabad on Wednesday, only days after they had broken up their protest in the city following government assurance of redressal.
"All efforts are being made to keep the protesters peaceful," the Islamabad Police said in a tweet. They added that protesters were brought back to the Khayaban Chowk after negotiations.
Members of the sit-in had tried to move towards the D Chowk in the morning.
The police have placed diversions at the following points:
Diversion from Zero Point to Faisal Chowk at Faisal Avenue. Alternatively, 9th Avenue and 7th Avenue can be used.
Jinnah Avenue under the flyover Khayaban Chowk for all sides
Alternatively, traffic continued on the flyover at Jinnah Avenue
Diversion placed for both sides of traffic at Express Chowk.
Alternatively, Margallah Road, Ayub Chowk, NADRA Chowk and Serena Chowk can be used.
All other roads of Islamabad are open.
Protesters claimed that despite being disciplined they were harassed by the police. They alleged that cops also tried to block their passage for food, water, and movement by placing containers on roads.
One of the protesters said the decision to defer electricity would not resolve their issue. He demanded of the government to have one unit and one model. Another protester said they don't have anything to eat.