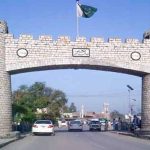 PESHAWAR: Prime Minister Shehbaz Sharif will make an urgent visit to the provincial capital later today after a deadly suicide attack that left at least 28 people dead and 150 others injured.
The premier is going to leave for Peshawar from Islamabad shortly.
Earlier, PM Shehbaz Sharif strongly condemned the attack that took place in a mosque at Peshawar Police Lines, reiterating the national resolve and unity to eliminate terrorism from the country.
He, in a statement, said that the killing of Muslims while they worshiped, was in violation of Islamic teaching and that the attack on a mosque evidenced that the perpetrators had nothing to do with Islam.
He said the terrorists wanted to create panic by targeting those safeguarding the country and reiterated his resolve to eliminate such elements waging war against Pakistan.
"The killers of innocent people will be made an example. The whole nation including the institutions was united against terrorism," he remarked.
He said the nation saluted the martyrs and that the government would formulate a strategy regarding the deteriorating law and order situation in Khyber Pakhtunkhwa province.
The prime minister said that the federal government would extend support to the provinces for their capacity-building against terrorism.
He instructed the federal interior minister to support the counter-terrorism departments of the provinces, particularly Khyber Pakhtunkhwa to enhance their capability.
The premier prayed for peace for the departed souls and strength for their bereaved families to bear the loss with fortitude.